WELCOME TO FLOWERFIELD ARTS CENTRE
We're so excited to be open again and we look forward to welcoming you to Flowerfield Arts Centre. We have measures in place to reduce risks and have outlined what you can do to help us provide a safe visit. Here's what we're doing to welcome you back:
REDUCED OPENING HOURS
Our reduced opening hours allow us to clean the deep clean Centre. Our opening hours are:
Sunday & Monday Closed
Tuesday 10:00 - 16:00
Wednesday 10:00 - 16:00 & 19:00 - 21:00
Thursday 10:00 - 16:00 & 19:00 - 21:00
Friday 10:00 - 15:00
Saturday 10:00 - 13:00
TRACK AND TRACE
Venues are required to collect customer details to help with the Test, Trace, Protect contact tracing programme. We must record the name and telephone number of each visitor over the age of 16 and the date and time of the visit. You can do this by using your smartphone to scan the Track and Trace QR code on arrival or by completing a short form. If you book via Eventbrite please complete your full details. We only keep this information for 21 days after your visit, after which it is destroyed.
SOCIAL DISTANCING
We've carried out a full assessment of our space and will be implementing various measures to ensure there is a safe distance. This includes floor markings, new queuing systems, and a new dynamic form of allocated seating advising social distancing of 2m throughout the Centre.
ONE-WAY SYSTEM
Signage on the floor guides visitors and staff to keep left when walking throughout the Centre. The first floor is accessed via the central stairway (close to reception) and by exiting via the rear stairway (furthest from reception).
LIFTS
Lifts are restricted to one person.
TOILETS
Toilets are restricted to one person or one family unit per time.
REDUCED CAPACITY
We have reduced the capacity within our public areas, workshop spaces, galleries, auditorium configuring room set-ups to adhere to these capacities.
STAGGERED PROGRAMME
We'll be staggering our activities to ensure people can exit and enter areas where activities are taking place without congestion in public areas at any one time. This will also provide more time for cleaning between activities. Participants are provided their own materials or equipment at each workshop.
ONLINE PROGRAMME
We understand that not everyone is ready to mix outside their 'bubble' which is why we will continue to offer online workshops, virtual talks, and exhibition tours along with performances you can enjoy from home.
HAND SANITISING STATIONS
Hand sanitising stations are in place at entrance and exit points and throughout the Centre for our staff and customers.
ENHANCED CLEANING REGIME
We're increasing our cleaning regime to ensure high touch points are regularly disinfected. We've staggered the schedule of activities to ensure the areas are cleaned post-activity.
PRACTISING GOOD HAND HYGIENE & RESPIRATORY ETIQUETTE
In addition to our hand sanitising stations staff, tutors and users are also reminded of practising good hand hygiene and respiratory etiquette with signage in relevant areas.
FACE COVERINGS
You must wear a face covering when you go to any indoor public space, unless exempt or aged 13 years or less. Face coverings can be removed while seated at a workshop while maintain social distancing.
ONLINE BOOKING
We are recommending everyone book online. Our capacities are much reduced so booking online should help prevent disappointment and will help us limit capacities and allow us to participate in the Test and Track scheme. You can still book over the counter or telephone by calling Box Office on T: 028-7083-1400.
PAY USING CARD
We accept payments by cash, but we would prefer processing payment using credit or debit card.
POSTPONE YOUR VISIT IF YOU ARE UNWELL
If you're experiencing any COVID-19 symptoms, please reschedule your visit to when you gave fully recovered. We will be able to refund you if you contact us 48 hours prior to your activity, or we will be able to offer you an exchange beyond that point.
We review our measures on a weekly basis to make sure we are responding to the best public health advice as well as our customers' needs. We will notify customers of any major changes.
The best way to keep up to date with our plans is to join our mailing list https://www.flowerfield.org/
If you have any questions, please contact us at info@flowerfield.org or T: 028-7083-1400
---
OUR EVENTS
We want to keep you safe while you are at Flowerfield Arts Centre and as such all on-site classes will have additional hygiene procedures in place, as per government guidelines. Please note that if guidance changes, we may need to make changes to our programme, such as reducing numbers attending on-site, or postponing or moving the course online. Please act responsibly and do not attend the class if you display any of the symptoms of Covid-19 or have been in recent contact with someone who has.

---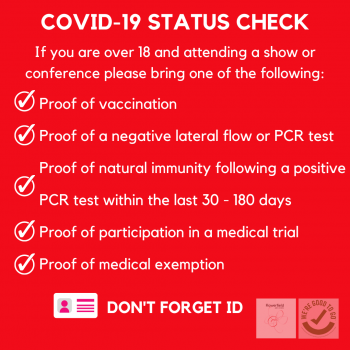 COVID STATUS CHECK – relevant to all auditorium events from 13/12/2021
The health and safety of our visitors remains a priority. In addition to our existent covid safety measures and in line with current NI Executive legislation, Causeway Coast & Glens Borough Council requests anyone attending an auditorium event aged 18 years and over to provide one of the following to demonstrate your current covid status:
Proof of full vaccination, with the second dose having been given at least 14 days earlier. Acceptable forms of proof include Covid immunisation record cards or certificates, the COVIDCert NI Mobile App, and any official documentation from outside Northern Ireland such as the EU Digital Covid Certificate or the NHS Covid Pass.
Proof of a negative Lateral Flow Test taken no more than 48 hours in advance. This will be in the form of an official SMS message which you will receive after completing and registering your Lateral Flow Test result at https://www.gov.uk/report-covi... Lateral flow tests are available for free at local pharmacies.
Proof of natural immunity shown by a positive PCR test result for Covid issued between 30 and 180 days earlier. Any self-isolation period must have elapsed before coming to the Arts Centre.
Confirmation in writing that you are a current or past participant in a clinical trial for vaccination against Covid, provided by the organiser of the trial.
Evidence for medical exemption. This will be provided through the Northern Ireland Covid Certification process (or an equivalent process from outside Northern Ireland), confirming a clinical reason for not being vaccinated with any authorised vaccine.
In addition, all ticketholders over 18 who do not have the COVIDCert NI Mobile App must bring photo ID as they may be required to show this to Front of House staff.
You can register your certificate for the COVIDCert NI Mobile App:
Doors to the auditorium open 30 minutes before scheduled start times, and we would encourage all ticket-holders to arrive early to allow sufficient time to complete this check.
We will try to ensure your wait is as short as possible and we ask that you have everything to hand on arriving at the door to facilitate a speedy entrance. If you can have all the relevant information stored on your mobile dives and open for scanning that will help us greatly. We can scan both mobile devices and paper QR code versions of the Vaccine Certificate, however with paper versions you will also have to provide photographic ID.
Please be respectful and patient with our staff as we implement the covid status checks which are a legal requirement.
Thank you for your co-operation.
---
Read our data privacy statement regarding COVID Status Checks below: