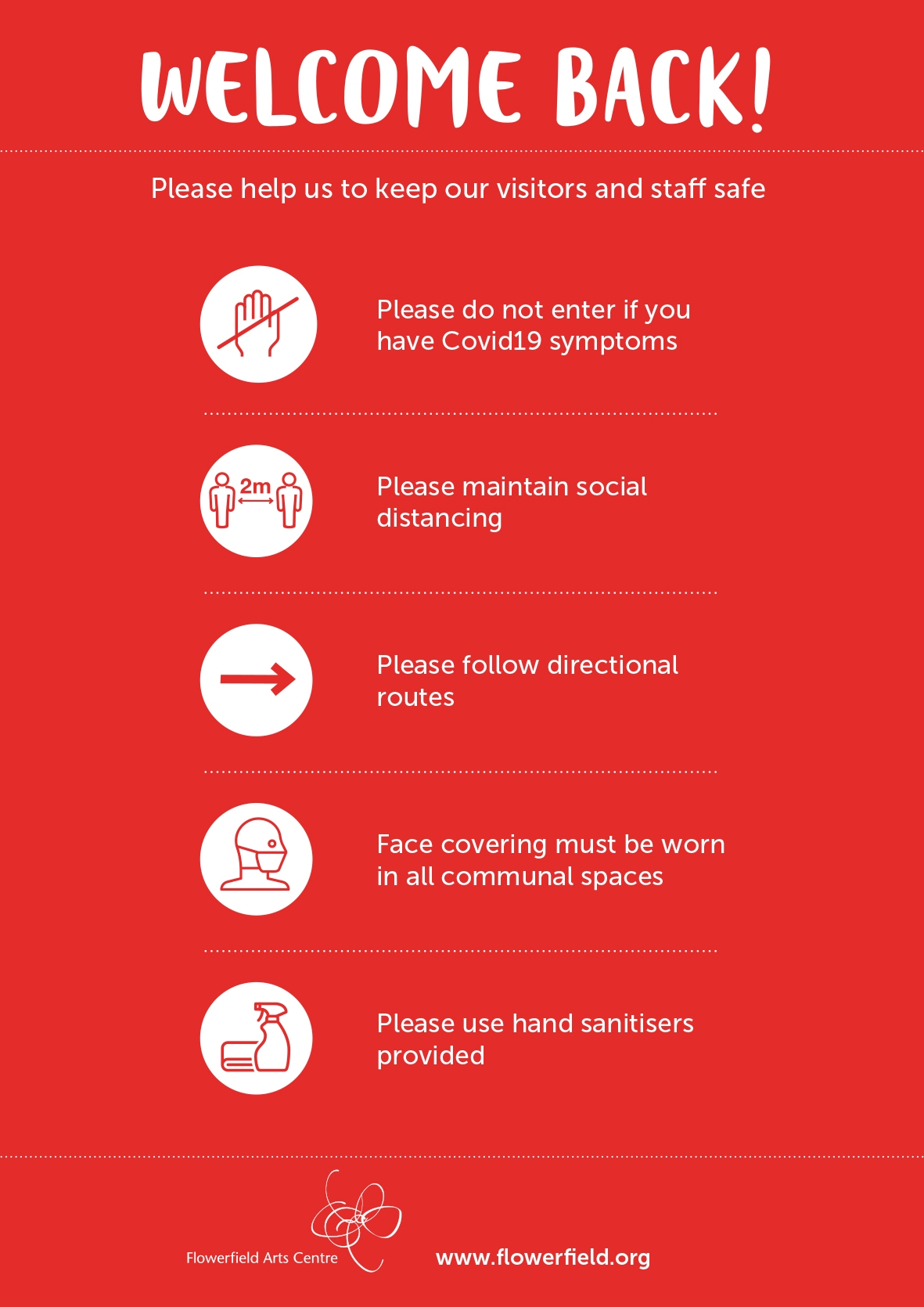 Welcome Back! Keeping you and our team safe during your visit to Flowerfield Arts Centre
During these unprecedented times, we have some new procedures in place to ensure your health and well-being during your visit with us. Whether you're visiting our galleries or participating in a workshop, or meeting someone for a chat in our reception area, please follow the following guidelines:
1. PLEASE DO NOT ENTER IF YOU HAVE ANY SYMPTOMS RELATING TO COVID19
---
2. PLEASE MAINTAIN SOCIAL DISTANCING OF 2 METRES
---
3. PLEASE FOLLOW OUR DIRECTIONAL ROUTES, VISIBLE AS YELLOW AND BLACK FLOOR VINYLS THROUGHOUT OUR VENUE
On entering, you can turn left if only accessing toilets. Otherwise, please go straight ahead to our galleries or reception.
Please keep left throughout the venue.
If going to 1st floor, use the usual stairwell immediately behind reception. Please exit the 1st floor using the rear stairwell at bottom of 1st floor corridor.
---
4. PLEASE WEAR A FACE MASK IN ALL COMMUNAL AREAS OF THE BUILDING, INCLUDING OUR GALLERIES, RECEPTION AREA, CORRIDIORS AND STAIRWELLS
You do not have to wear a mask if participating in a workshop, however, your tutor will wear a mask/visor and you must maintain social distancing of 2 metres.
---
5. PLEASE SANITISE YOUR HANDS ON ENTRANCE AND EXIT AND UTILISE OUR MANY WALL-MOUNTED SANITISERS THROUGHOUT THE VENUE
In addition:
We have adopted temporary opening hours, allowing us to deep clean the venue regularly and limiting the time our team and public are together. These are: Monday & Tuesday, CLOSED; Wednesday & Thursday, 10am-4pm & 7-9pm; Friday 10am-3pm; Saturday, 10am-1pm.
Lifts and toilets are restricted to one person or one family unit per time.
We will ask for your basic contact details if visiting our galleries or participating in an activity in case they may be required by the Public Health Agency to aid their Track & Trace. We will NOT share your information with any other third parties or for any other reason.
Our workshops and events have restricted numbers to ensure health and safety - please understand that you may not be able to secure a place.
Thank you for your co-operation in keeping you and our team safe.
We really appreciate it.