17th October 2017
Causeway Coast & Glens Borough Council's Culture, Arts & Heritage Strategy and Action Plan 2016 – 2021 'Open Doors to Culture' sets out our mission statement to "develop Culture, Arts, and Heritage to deliver health, wealth and happiness" across our five core themes:

Enhancing our cultural venues & assets
Investing in creative learning & skills development
History, heritage, and cultural tourism
Participation, inclusion, and equality
Communication and advocacy
To make this vision a reality, we aim to engage you - the people of the Causeway Coast & Glens Borough area - with arts and cultural activities, both in your communities and our arts centres in Portstewart and Limavady. We believe that the arts is an essential part of any thriving community.
We want to engage you in the arts, to develop partnerships and collaborations, inspire, promote creativity, improve skills, enhance well-being, develop creative industries, increase engagement in the arts and, enrich our sense of self and place.
In order to harness our cultural resources and increase engagement and access to the arts, we wish to identify and map the cultural assets that exist across the Causeway Coast & Glens Borough Council area - the people, organisations, facilities, and businesses.
This survey will take no more than 10 minutes of your time to complete. The results will allow us to map capacity, develop partnerships and begin conversations which we hope will lead to your greater engagement in the arts.
Please provide as much detail as possible. Begin survey here.
Thank you for your cooperation!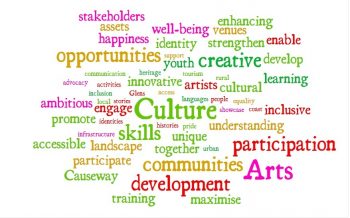 ---
Share This Story