28th May 2020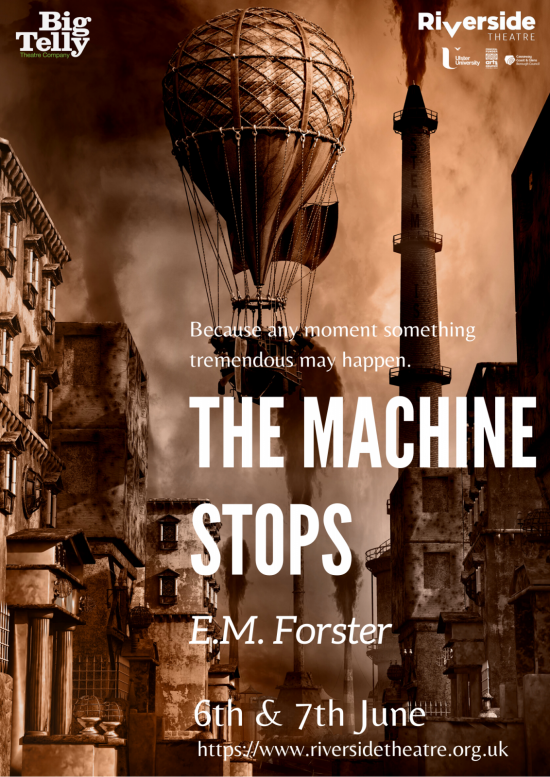 Take part in our Picture This - The Machine Stops Art Project
Big Telly Theatre's riveting new production brings to life the fascinating short story
The Machine Stops
by E.M. Forster,
downloadable here
.
Written by Forster in 1909, The Machine Stops is a spookily relevant short story which depicts a future where people live underground in isolated cells, never seeing one another and communicating only by audio and visual devices.
A 100 year old story about lockdown, isolation, what we stand to gain from technology and what we stand to lose from the absence of human contact.
The Machine Stops is a live, engaging and creative illustration of Victorian culture and psyche and which Big Telly are bringing to your home screen on the 6 & 7 June via the Riverside Theatre. For more information or to book tickets, click here.
As part of this fascinating production, we are creating an online gallery of artwork created by artists in response to Forster's story - anyone aged 11+ years is invited to read The Machine Stops, which is packed with stunning fantasy and futuristic imagery and create their own visual response. You can choose a particular line of text, scene or overall imagery which inspires you. You can do a straightforward illustration of the story or create your own imaginative artistic response, whatever that form may take.
We ask that you try and submit your work by 6 June to coincide with the live theatre performances and we will be promoting all submissions on our website gallery as well as promoting across social media with our partners Big Telly Theatre and the Riverside Theatre for the duration of The Machine Stops tour across Northern Ireland.
Email your artwork to Desima.Connolly@causewaycoastandglens.gov.uk along with your name and age (age if you're under 18 years).
See our gallery below for some inspirational related artwork.
---
Share This Story