Cinemagic 'Young Audiences Supporting Foodbanks' Brings Movie Magic to Flowerfield Arts Centre
27th July 2022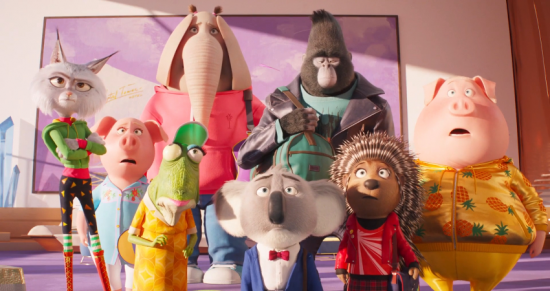 Cinemagic Film and Television Festival for Young People are calling on Causeway locals and holidaymakers to back its new initiative 'Young Audiences Supporting Foodbanks' in partnership with the Trussell Trust, which is bringing movie magic to Flowerfield Arts Centre, Portstewart, presenting a free film screening of animated family movie SING 2 on Friday 12th August at 10.30am, in support of Causeway Foodbank.
Rather than paying for a ticket to gain entry to the Cinemagic film screening SING 2, audiences are asked to donate essential food/ items needed by the foodbank to support the local community in the Causeway areas of Coleraine, Portstewart and Portrush. Causeway Foodbank in conjunction with Vineyard Compassion is part of a nationwide network of foodbanks, supported by The Trussell Trust, working to combat poverty and hunger across the UK.
To date, since February 2022, Cinemagic has empowered young people to help those in need and the initiative is well on its well to achieving over 1 tonne of food donations to help combat the cost-of-living crisis.
Chris Shaw, Cinemagic Festival Programmer said "As part of our new social responsibility initiatives for 2022, Cinemagic is delighted to have launched 'Young Audiences Supporting Foodbanks' in February this year. Working with 7 different Foodbanks in Northern Ireland that are supported by The Trussell Trust, we hope to inspire and motivate young audiences to help those in need and play a part in tackling poverty. The response so far from February to July has been overwhelming, with almost 1 tonne of food donations from the public, and it's our aim to expand the initiative to many other areas in Northern Ireland and work with the young movie-loving public to make a difference through the medium of film. We look forward to our 12th August event in partnership with Flowerfield Arts Centre and Causeway Foodbank and call on locals to support the initiative."
Bruce Gardiner-Crehan, Manager for South Belfast Foodbank, the first Foodbank to work in partnership with Cinemagic, said "This innovative idea, to bring the thrill and magic of cinema and tie it closely to the local community that seeks to make a positive difference in the lives of those affected by poverty is a unique idea. It helps young people and children to understand that some people struggle to make ends meet and that it's up to all of us to play a small part. Empowering and creating a new generation of justice seekers that care for people is a wonderful thing that we wholeheartedly support. Thank you so much – in advance – for your donations of food. They will all go to people most in need".
SING 2 screens at Flowerfield Arts Centre, Portstewart, on Friday 12th August at 10.30am as part of Cinemagic Young Audiences Supporting Foodbanks Initiative. Tickets are free of charge in return for a foodbank donation/s but it is essential that tickets are pre-booked online at www.wegottickets.com/cinemagic or on the Flowerfield Arts Centre website
---
Share This Story