9th October 2018
We were delighted to celebrate 'Not Alone' a fantastic project created by young people in Ballymoney through DU Dance'sAlternative Energies project on the evening of Friday 5 October. 
Led by dance artist Kelly Neill, DU Dance's Alternative Energies project is designed for 12-24 year olds and has been happening weekly at the Joey Dunlop Leisure Centre in Ballymoney since 2014, with our support. 
The group undertakes inter-generational work using dance to bring people of different ages together and to reduce the isolation that many people feel in rural communities. Their latest project 'Not Alone' which the young people created through dance and the creation of a wonderful short film, explored issues around bullying, something which most of us have experienced to some degree in our lives, but is extremely important to young people. 
On the evening, officially opened by our Mayor, Councillor Brenda Chivers, the audience watched the public premiere of 'Not Alone' and an extremely emotive and powerful dance performance by the project's young people.
The film was co-directed by Kelly Neill with Michael MacBroom, a Belfast-based filmmaker and was filmed over three days in the Ballymoney area. 
DU Dance hope that their film will be used a bullying resource in schools across the borough, provoking discussion and reminding young people that they are indeed, not alone. 
For further information on 'Not Alone' or the Alternative Energies project, contact info@dudanceni.com / Tel: +44 (0)28 9033 0956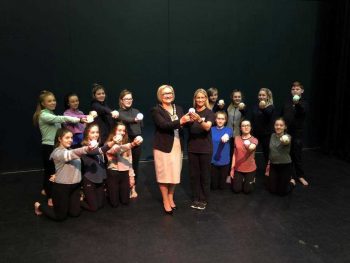 ---
Share This Story