10th November 2022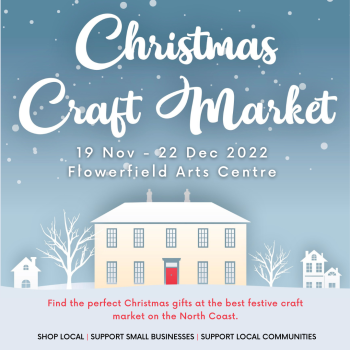 We invite you to embrace the most wonderful time of the year at the launch of our Christmas Craft Market.
The best festive craft market on the North Coast, Flowerfield's Christmas Craft Market features the best local and regional professional makers so whether you're looking for pottery, scarves, stunning jewellery, unique glass homeware, beautiful prints, stocking filler candles or artisan food, you'll find endless handmade treasures and the perfect bespoke gifts for your loved ones.
A special launch event will take place on Saturday 19th November from 3-6 pm featuring a magical Twilight Market in Flowerfield Park in partnership with Naturally North Coast and Glens. Not only can you browse all the fantastic gifts available in our galleries, but you can also enjoy homemade cakes, cuisine, treats and gourmet coffee - all against a backdrop of live yuletide music. There will also be some free drop-in festive art workshops for kids - It's an evening you won't want to miss!
Flowerfield Christmas Craft Market will continue until Thursday 22 December 2022, giving you plenty of time to shop for gorgeous locally-made gifts this festive season. This Christmas we encourage you to shop locally and support these incredibly talented makers from across the Causeway Coast & Glens and beyond.
The Christmas Craft Market runs from Saturday 19 November to Thursday 22 December 2022 during the following hours:
Monday 10:00 – 16:00
Tuesday 10:00 – 16:00
Wednesday 10:00 – 16:00 & 19:00 - 21:00
Thursday 10:00 – 16:00 & 19:00 - 21:00
Friday 10:00 - 16:00
Saturday 10:00 - 16:00
We are delighted to feature hand-crafted goods from the following makers at the 2022 Market

I Felt Happiness
FLOSC
Mirabilia & Katie's Crafts
Pig & Monkey Mercantile
---
Share This Story