30th August 2022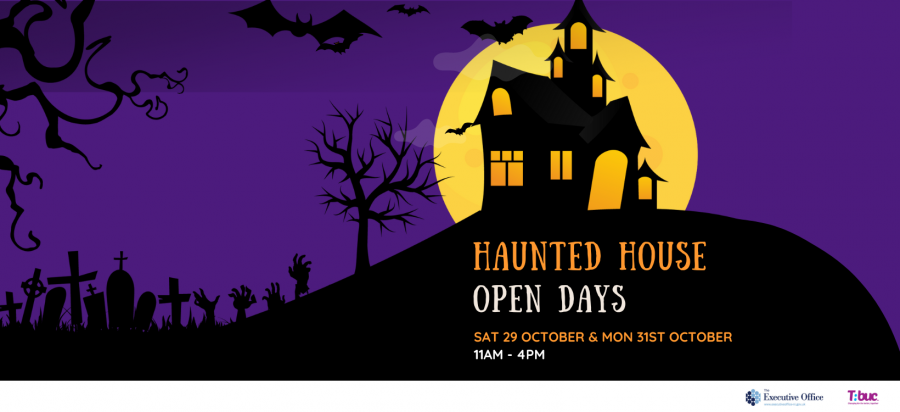 HAUNTED HOUSE OPEN DAYS
Saturday 29th October & Monday 31st October
1am – 4pm
We have a host of horrifying Halloween activities planned at Flowerfield from frightening family films to creepy craft workshops, spooky storytelling to live music. Join us on Saturday 29th October for a screening of Hocus Pocus and watch as an unlikely band of heroes tries to end the reign of the terrifying Sanderson Sisters. Channel some witchy energy and get creative in our post-film craft workshop with Linda Mulholland or join Karen Edwards as she brings to life some of the spooky myths and legends of the Causeway Coast. There will also be live music from entrancing electronic pop duo VOKXEN, the Naturally North Coast and Glens Market will be outside on our terrace, and there will be drop-in creepy craft workshops.
On Monday 31st October we are screening Disney's Coco, following Miguel as his pursuit of music, against his family's wishes, leads him to the Land of the Dead where he meets his great-great-grandfather and legendary singer, Ernesto de la Cruz. After the movie enjoy some Sugar Skull craft or take your tiny tots to our Not So Spooky Tales with Kelly Quigley. There will also be drop-in creepy craft workshops with Linda Mulholland to create some monster masterpieces.
Halloween Fancy Dress encouraged!!
---
SATURDAY 29TH OCTOBER
Frightenin' Family Film: Hocus Pocus/ 11am – 12:30pm/ Tickets: £3 | Family Ticket £10 (up to 4 people) / Cert. PG. BOOK NOW
Witchy Craft Workshop with Linda Mulholland /12:30pm – 13:30pm / FREE / All Ages FIND OUT MORE
Ghoulish Myths and Legends with Karen Edwards / 12:30pm – 13:30pm / FREE / Ages 8 -12 FIND OUT MORE
Live Music from Vokxen / 2pm – 2:30pm & 3pm – 3:30pm/ FREE/ All Ages - FIND OUT MORE
Creepy Craft Drop-in Workshops with Linda Mulholland / 2pm – 4pm / FREE / All Ages FIND OUT MORE
---
MONDAY 31ST OCTOBER
Frightenin' Family Film: Disney's Coco/ 11am – 12:30pm/ Tickets £3 | Family Ticket £10 (up to 4 people) / Cert. PG. BOOK NOW
Dia De Los Muertos Craft Workshop with Linda Mulholland /12:30pm – 13:30pm / FREE / All Ages FIND OUT MORE
Not So Spooky Tales for Tiny Tots with Kelly Quigley / 12:30pm – 13:30pm / FREE / Ages 4+ FIND OUT MORE
Creepy Craft Drop-in Workshops with Linda Mulholland / 2pm – 4pm / FREE / All Ages FIND OUT MORE
---
Share This Story