10th August 2018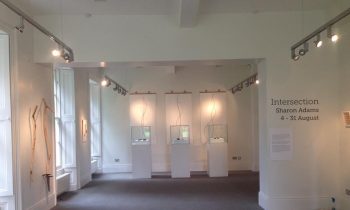 Intersection by artist Sharon Adams is now open in our main galleries.
Intersection presents a material exploration of the Frocess townland where the artist lives, seeking out points where Sharon connects with its lines and surfaces, textures and patterns. Using mainly wood, metal and textiles, she presents tools and objects informed by her life-long relationship with a landscape that is both familiar and ever-changing. 

After living in London for over 20 years, it was the experience of art school that took the artist back to live and work in the place where she was born and raised and where her father's family have farmed for generations. 
Her practice became personal when Sharon connected her love of working wood and metal with the inherent beauty of simple tools and machinery; objects which had populated the landscape of her agricultural childhood and been left in a forgotten past.
Just as she emerged from office life and picked up a hammer, Apple launched the iPad, telling us 'you already know how to use it'; even the physicality of skilled work was being reduced to a lowest common denominator of clicking and scrolling. 
This is Sharon's first solo exhibition and will include large and small scale works, as well as a collection of sketches, textile works and film footage. 
Intersection continues until 31 August. 
Find out more here.. 
---
Share This Story