3rd May 2022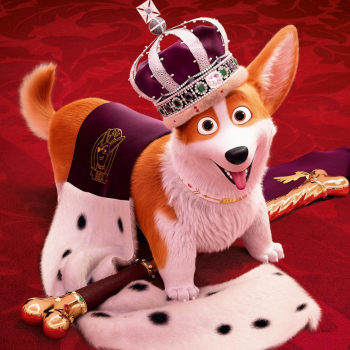 Her Majesty the Queen is the first British monarch to celebrate a Platinum Jubilee and you can join the Arts Service festivities at Flowerfield Arts Centre, Roe Valley Arts and Cultural Centre and in Ballycastle and Ballymoney!
To complement the national celebration, there's something for everyone, from floristry workshops Fit for a Queen to Tiny Tot Royal Fairy-tales, to film screenings and community bunting sessions.
Children and young people will have the opportunity to attend workshops across both venues and in Sheskburn House, Ballycastle and Ballymoney Town Hall, to create floral crowns and regal headbands, craft a clay castle money box, and make their own Royal rod puppets.
At Roe Valley Arts and Cultural Centre there will also be a screening of family movie, The Queen's Corgi and younger children are invited to attend a Royal fairy-tale storytime (fairy-tale fancy dress is strongly encouraged). Flowerfield will host a screening of Lin-Manuel Miranda's extremely popular musical fantasy, Encanto.
As well as these family friend screenings there will also be the opportunity to see Spencer (2021) starring Kristen Stewart, and the riveting documentary Elizabeth II: A Portrait in Parts at both Flowerfield and Roe Valley Arts Centre and The Queen (2006) starring Helen Mirren, at Roe Valley Arts and Cultural Centre.
A Jubliee workshop programme for adults will take place at both art venues and in other venues across the Borough, including floristry, glassmaking, silversmith jewellery workshops and needle felting workshops, all with a royal twist. Participants are invited to come along and create commemorative pieces of art inspired by Her Majesty's reign. Roe Valley Arts and Cultural Centre will also host a reflective Creative Writing course, 'Decades', to lead participants back through the past decades supporting them in creating a final written piece. All workshops and courses are suitable for participants of all levels.
There are a number of community events planned to bring the people of the Borough together for this landmark celebration including, at Flowerfield, a spectacular outdoor projection of key moments in the life of Queen Elizabeth II, and Vintage Tea dances for local senior citizen groups at both Flowerfield and Roe Valley Arts Centre.
Residents of the Borough of all ages are also invited to take part in the Big Community Bunting Stitch-up, a series of free drop-in bunting making workshops. These workshops are for all levels of experience and skill and participants can try a range of different techniques from block printing to stencilling, applique, mixed media as well as sewing. These drop-in sessions will begin in Flowerfield Arts Centre, Roe Valley Arts and Cultural Centre and Ballymoney Town Hall.
---
PLATINUM JUBILEE ACTIVITIES
EVENTS:
The Big Jubilee Bunting Stitch-Up! Free Drop in community sessions: Friday 6 May and Saturday 7 May, 10am-1pm / Flowerfield Arts Centre
The Big Jubilee Bunting Stitch-Up! Free Drop in community sessions: Saturday 14 May, 21 May and 28 May, 10am-1pm / Roe Valley Arts & Cultural Centre
The Big Jubilee Bunting Stitch-Up! Free session - please note, this is not a drop-in session like the others. Participants will create bunting for duration of the workshop. Saturday 18 June, 10.30am-1.30pm / Ballymoney Town Hall
Vintage Tea Dance (for seniors groups) with Driftwood / Friday 13 May, 1-3pm / Roe Valley Arts & Cultural Centre
Royal Fairy-tales for Tiny Tots / Saturday 14 May, 11.30am-12noon OR 12.15-12.45pm / Roe Valley Arts & Cultural Centre
Film Screening - The Queen / Thursday 19 May, 7pm / Roe Valley Arts & Cultural Centre
Film Screening - Elizabeth II: A Portrait in Parts / Thursday 26 May, 7pm / Roe Valley Arts & Cultural Centre *new release 2022*
Vintage Tea Dance (for seniors groups) with The Victory Rollers / Friday 27 May, 1-3pm / Roe Valley Arts & Cultural Centre
Family Film Screening - The Queen's Corgi / Saturday 28 May, 11am-1pm / Roe Valley Arts & Cultural Centre
Outdoor Pojection / Thurs 2 June, dusk / Flowerfield Arts Centre
Film Screening - Spencer / Thursday 9 June, 7pm / Flowerfield Arts Centre
Vintage Tea Dance (for seniors groups) with Driftwood / Thursday 9 June, 1-3pm / Flowerfield Arts Centre
Family Film Screening - Encanto / Saturday 11 June, 11am / Flowerfield Arts Centre
Film Screening - Elizabeth II: A Portrait in Parts / Wednesday 15 June, 7pm / Flowerfield Arts Centre *new release 2022*
Vintage Tea Dance (for seniors groups) with The Victory Rollers / Friday 1 July, 12noon-2pm / Flowerfield Arts Centre
WORKSHOPS FOR KIDS:
Clay Creations Castle Moneybox for 8-12 year olds / Saturday 7 May, 10.30am-12.30pm / Flowerfield Arts Centre
Flower Crown Workshop for 5-12 year olds / Saturday 7 May, 12noon-1pm / Roe Valley Arts & Cultural Centre
Clay Creations Castle Moneybox for 8-12 year olds / Saturday 28 May, 10.30am-12.30pm / Roe Valley Arts & Cultural Centre
Glass Crown Sun-catcher and Coaster for 10-16 year olds / Saturday 11 June, 11am-3pm / Flowerfield Arts Centre
Flower Crown Workshop for 8-12 year olds / Saturday 11 June, 10am-12noon / Ballymoney Town Hall

Flower Crown Workshop for 8-12 year olds / Saturday 11 June, 2-4pm / Sheskburn House, Ballycastle
Weekend Wonders Castles for 5-7 year olds / Saturday 11 & 18 June, 10.30am-12.30pm / Flowerfield Arts Centre
Weekend Wonders Castles for 8-12 year olds / Saturday 11 & 18 June, 1-2.30pm / Flowerfield Arts Centre

Weekend Wonders Crowns for 5-7 year olds / Saturday 25 June, 10.30am-12noon / Flowerfield Arts Centre
Weekend Wonders Crowns for 8-12 year olds / Saturday 25 June, 1-2.30pm / Flowerfield Arts Centre
WORKSHOPS FOR ADULTS:
Decades Creative Writing Course / Thursday 5 May for 4 weeks, 7-9pm / Roe Valley Arts & Cultural Centre
Needle Felting - Royal Corgi / Saturday 14 May, 10am-1pm / Roe Valley Arts & Cultural Centre
Jewellery Design - Crowns / Friday 20 May, 10am-4pm / Roe Valley Arts & Cultural Centre
Flowers for for a Queen / Saturday 21 May, 10.30am-12.30pm / Roe Valley Arts & Cultural Centre
Glass Shamrock, Rose and Thistle / Wednesday 8 June, 2-5pm / Flowerfield Arts Centre
Jewellery Design - Jubilee Bracelet / Saturday 18 June, 10am-4pm / Flowerfield Arts Centre
Flowers fit for a Queen / Saturday 25 June, 10am-1pm / Flowerfield Arts Centre
Jewellery Design - Heritage Brooch / Saturday 25 June, 10am-4pm / Sheskburn House, Ballycastle

---
Share This Story