23rd May 2022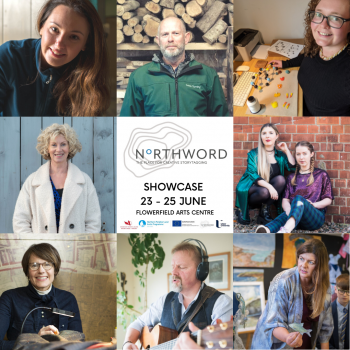 We are delighted to welcome a group of Northword Creatives to Flowerfield Arts Centre from 23-25th June.
These creatives are part of the Storytagging project which is funded by the Northern Periphery & Arctic Programme 2014-2020. The project is led by Robert Gordon University Orkney and spans Scotland, Northern Ireland, Ireland, Iceland, Norway, Sweden, Finland & Russia

The StoryTagging project combines traditional storytelling with modern technologies to help increase the visibility and reach of creative practitioners working in remote areas.
The project aims to develop a digital platform, a website and app, that will allow creatives to harness the stories that make their area in the Northern region distinct, focusing on place, identity & community; folklore; cultural heritage; landscape & natural heritage.
Northword is the brand name that will be adopted for this digital platform.
Over the last 12 months, Northword has been working closely with these creatives from the Causeway Coast and Scotland to bring their local stories to life through the creation of a final showpiece.
Find out more about the journey of the creatives based in Northern Ireland.
See Full programme below
*Please note these events are free but booking is required, and spaces are limited.
Thurs 23 June / 16:30 – 18:00 / Songwriting Workshop with Vokxen / 18yrs+ / FREE - BOOK NOW
Fri 24 June / 10:30 – 12:00 / Beadmaking with Rowena Henderson Designs / 18yrs+ / FREE - BOOK NOW
Fri 24 June / 12:30 -14:00 An Introduction to Kiltmaking Skills with Andrea Chappell (Acme Atelier) / 18yrs+ / FREE - BOOK NOW
Fri 24 June / 13:00 – 15:00 / Eco Printing/Bundle Dyeing with Angela Turkington (Leopard & Lily) / 18yrs+ / FREE - BOOK NOW
Sat 25 June / 10:30 – 12:30 / Family Ceramics Session with Sasha McVey Ceramics / Children must be 8yrs + / FREE - BOOK NOW
Sat 25 Jun / 13:00 – 15:00 / The Big Draw with Michelle McGarvey / All ages but children must be accompanied by an adult / FREE - BOOK NOW
Sat 25 June / from Midday / Stories and Songs with Colin Urwin / All Ages / FREE - BOOK NOW
---
Share This Story